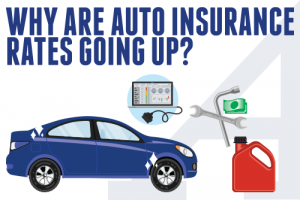 Do you know about the life-changing events that are happening right now in the auto insurance industry? This article is a must-read! Don't be left out while everyone else jumps ahead to secure their lower insurance rates.
Why do you need to secure an auto insurance deal immediately? Well, read below to find out.
You may have already heard this story if you are a frequent news watcher. Recently, President Donald Trump has decided to increase steel and aluminum tariffs. This new 25% tax would add new taxes on all imported steel and aluminum.
What does this mean for my auto insurance?
I'm sure you are wondering, "why does this pertain to my auto insurance? This matter will probably not affect me at all!" However, with the passing of these new taxes by President Donald Trump, you should expect some significant changes to your auto insurance policies. Regarding the taxing of steel and aluminum, there are two main factors to consider.
This tax increase WILL raise your insurance rates for cars that rely on imported parts.
Do you own a car that only calls for imported parts? While some of us love the luxury of imported vehicles, we all know the details for repair are relatively expensive. However, you should expect to pay even more for imported car parts with this tax! If you happen to wreck your imported car, the cost of materials to fix it will be significantly higher. Due to this, it will increase your insurance rates if you rely on imported parts. This increase isn't good news.
The increase in the cost of parts will force more vehicles to become totaled.
Additionally, this will also call for more cars to be totaled. The price to completely repair a wrecked car will increase with the increase of steel and aluminum. In turn, fixing a wrecked vehicle and paying that high price isn't in the insurance company's best interest. Therefore, you will see an increase in totaled vehicles. With a totaled vehicle also comes a new car. Consequently, you will also notice the rise in recent car sales.
Buying a new car is so stressful. So many people enjoyed the older car they had previously. But, remember, with purchasing a new vehicle, come other extra fees too.
These are the two main factors that will affect your auto insurance rates. It's for sure not a significant chance for us car owners. We already paid out our hard-earned money for the insurance coverage we have right now.
How Do I Maintain Affordable Auto Rates before this increase?
If you don't want higher auto insurance premiums, you must act NOW! There is zero time to waste. Every minute passed is a minute wasted. You must collect an auto insurance quote now to lock in affordable rates. Failure to do so will leave you stuck with these newly increased rates and an unhappy wallet!
Want to know a secret? If you are quick enough and receive your quote right now, you can lock in a lower rate for your auto coverage. Sounds great, right? Just remember, though, that this is a highly crucial time. So I recommend grabbing your quote and locking in your rate right now!
Stay ahead of the game, and don't fall victim to overly expensive rates due to this new steel and aluminum tax increase! Remember, Insurance Quote Deals will always have your back regarding affordable rates. So now hurry, go collect that auto insurance quote!